I promised I would share more details of my recent trip to Vietnam, and now, I am finally over my jet lag enough to think!
One of the best parts of our trip, and a place I had longed to visit was Ha Long Bay. And it did not disappoint.
A Unesco World Heritage site, Ha Long Bay is "in the Gulf of Tonkin, [and] includes some 1,600 islands and islets, forming a spectacular seascape of limestone pillars. Because of their precipitous nature, most of the islands are uninhabited and unaffected by a human presence."
I almost couldn't control my excitement about finally getting to go. It was just two days in to our trip that we got up early in Hanoi and drove the 4 hours to get to the bay. Driving in Vietnam is a bit of a stimulation overload. Scooters weave through the bicycles, pedestrians, trucks and countless animals that share the road with them and the time for traveling is not so much a matter of distance as it is obstacles.
There's really nothing quite like driving behind a precarious balanced load of coffins.
People farmed on every available bit of land, sometimes in the medians of the larger roads.
Yes, that IS a cow on the back of that scooter. How else would you transport your cow?
We arrived at the bay to find crowds on the dock, worried ship company officials frantic because the fog was thick and getting thicker. Because many of the smaller boats are not equipped with state of the art radar equipment, it can make it unsafe to sail in poor conditions.
After some tense moments, we were, thankfully, upgraded to a larger boat, one of the few permitted to leave the harbor that afternoon.
We boarded the Violet, a beautiful and luxurious teak junk. In the fog, it was completely dreamy. Our room was enormous, with an outside deck, and my son was instantly excited.
We were served a delicious 3-course meal and the ship began to sail through the fog.
We sailed for almost two hours, unable to see ahead of us and disappointed that the magic of Ha Long Bay was so hidden from us. It seemed impossible that we had come all this way, that I had waited nearly 20 years to be there, and that we could see NOTHING.
Then, the boat stopped. From out of the fog, women in bamboo-bottomed boats rowed to meet us.
Many of them had several children with them, and the women held up beautiful shells they hoped we would buy. Clearly, they were living in desperate poverty and it was hard to see. (We were later told that the ship companies often given them food they have on hand and do their best to help those who live in the area but that poverty is endemic.)
Here was where our Avatar: The Last Airbender adventure began.
If you're an Avatar fan, you know The Painted Lady episode. If you're not a fan, I'll give you a quick summary–and tell you that you seriously should watch it!
In the episode, Aang, our hero, and his gang arrive at the fishing village of Jang Hui, a floating community populated by villagers who are suffering a variety of ills brought on by the massive pollution being spewed by a Firebender Factory.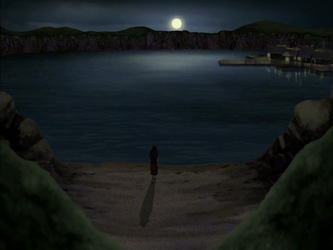 To help, Katara, the heroine of our story, costumes herself as The Painted Lady, a mythological character who is considered the guardian spirit of the town.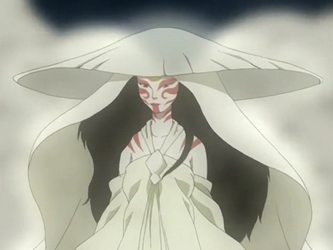 In the interest of no spoilers, I won't tell you what happens, but suffice to say, our heros are awesome.
What's the tie-in to my trip? The floating village. Because yeah, it's real.
When the boat stopped, we were led to a shuttle, unsure of exactly where we were being taken, and were dropped at a dock near the shore. It was wet and dank feeling, still completely fogged over.
A group of women were waiting for us at the dock. Also rowing bamboo boats, they handed us life jackets and, without speaking, started to row again. The water was close enough for us to touch and soon, we arrived at the floating village.
A real and true floating enclave of families who make their living by fishing, Cua Van Village consists of small cabins which dot the water. Children and parents swung in hammocks on the porches, and we heard generators powering the limited electronics in the village.
Fishing nets hung on houses, and the village was filled with people because the day had been too cloudy to go out to fish.
We passed the village school, a slightly larger floating building, and heard children laughing and shouting inside. One room now, they hope to build another room so that the nearly 80 children in the village can be separated more age-appropriately.
In the fog, it felt impossible that this was real. My son and I were amazed. It was Avatar come to life, and so much more. Beautiful and sad.
Did we feel like voyeurs? Yes. And it felt slightly awkward.
At the same time, one of the ways they seek to preserve and save this village is by letting people see it. The ship companies in the area give money to the schools, and help in whatever ways they can, but it's still not enough.
Unfortunately, much like Jang Hui, the village in Avatar, Cua Van is being impacted by pollution and curtailed fishing options.
The poverty is clear, and increasingly, children are leaving the village for education and opportunities on the shore. With cell phones and internet access, young people can see what other options they have, and many do not have the desire to stay in a small, isolated village on the water.
In addition, what you cannot see in these photos is the level of pollution impacting Ha Long Bay in general. The boat trip is an experience I wish everyone could have, and yet, the debris floating by is heartbreaking. Piles of trash litter the water and that is just what we could see on the surface. The town, and the bay in general, are all in danger.
I don't mean to sound cavalier, or as if I am making light of what is going on there, but where is The Painted Lady when we need her?
Another heart-breaking factoid? Because of a bureaucrats dream, all of the boats in Ha Long Bay must be painted WHITE by the end of April. While on the ship, we found out that it was the last sail for the Violet before it was being docked for painting.
Yes, these gorgeous teak boats. WHITE! What are they thinking?!?!
The next morning, we woke up early for a Tai Chi class on the upper deck. And yes, the CLOUDS HAD BROKEN!
Some of the fog remained, but it was clear enough to see many of the islands. And they were as striking and fantastical as I had dreamed.
In some ways, it was even more magical because it was now unexpected and we had all been so worried we wouldn't see anything. The boat had only 6 cabins, and all of the passengers gathered on the deck to marvel at the views. And views. And views.
As a family, my mother, son, and I felt so lucky that we were there before the boats are painted. In many ways, so many parts of our trip felt like we were there in the nick of time, before things had either changed too much, or were lost permanently, or before the pollution becomes even more uncontrolled.
I will share more soon. In the meantime, get your Avatar watching started!